Searching for the lost kite
Jun 09
PESME ISPOD POKRIVAČA
POP Depresija :: Koncertne godine

Autopark - Dva klikera • Kodagain - Metal Baby • On Tour - Follow Me • Lula Mae - Slow Motion Movie Star • ŽeneKese - Supersonične sanke • The Mothership Orchestra - Lazarus Heart • Nežni Dalibor – Stanje budućnosti • Ventolin - Cracklin' Water •Ilija Ludvig - Another Day Full of Dread • Stray Dogg - Nomadic Revery (All Around) •Ika - If I'm Waiting •Wooden Ambulance - My Blue Wave
Na papiru, činilo mi se da je ideja baš jednostavna. Želeo sam da "na jednom mestu" okupim sve muzičare (ili bar većinu), koji su tokom poslednjih desetak godina, od prvog koncert POP Depresije (Nina Nastasia, 23. septembar 2002, Dom omladine) do danas, svirali u Beogradu i da tako još jednom podsetim i sebe i druge na značajan period života. Nije bilo mnogo teško ni u praksi - brojni PD prijatelji koji su tokom godina bili gosti/domaćini na našim koncertima - Kodagain, Nežni Dalibor, Ilija Ludvig, Autopark, ŽeneKese, The Mothership Orchestra, On Tour, Ventolin, Wooden Ambulance, Ika, Lula Mae, Stray Dogg - izabrali su da obrade pesmu bendova/solista koji su tokom ovog perioda svirali u Beogradu. Baukova Soba, Studio Underground NBGD i svi učesnici ove "akcije" omogućili su da se sve na najbolji mogući način izvede i tako ovu ideju pretvorili u pravi muzički vremeplov. Svima se zahvaljujem i jedva čekam da ponovo nešto radimo zajedno. ivan/PD
May 22
Richard Buckner: Mediji su agresivan parazit društva i kulture…
U sredu 23. maja u beogradskom Gun Clubu nastupiće Richard Buckner (Ričard Bakner), jedan od najcenjenijih i najtalentovanijih rokenrol autora današnjice. Tokom svoje karijere objavio je devet studijskih albuma - poslednji u avgustu 2011. godine "Our Blood" (izdavači - Merge - dom Arcade Fire i Lambchop u SAD/Decor - izdavač Chucka Propheta, American Music Club/Marka Eitzela, Richmonda Fontainea u Evropi), za koji je dobio fantastične kritike (UNCUT 4/5, Pitchfork 8/10) i koji će uživo promovisati u Srbiji. Za mnoge fanove Ričard Bakner je čovek koji se svojim talentom najviše približio besmrtnom Townesu Van Zandtu (Taunsu Van Zantu).

Gosti na koncertu u sredu 23. maja biće beogradski ON TOUR, sastav koji čine Ivana Smolović (IKA), Vladimir Marinović (Ventolin) i Marko Ćebić (The Mothership Orchestra).
Uz pomoć i razumevanje koncertne agencije i evropskog izadavača (Decor Records) Ričarda Baknera (Richard Buckner), uradili smo e-mail intervju sa legendarnim američkim trubadurom. Kultni pesnik i muzičar u Beogradu nastupa u sredu 23. maja u Gun Clubu. Bakneru je ovo prvi nastup u ovom delu sveta u karijeri (dan kasnije nastupa u Zagrebu na festivalu "Žedno uho")…
POP Depresija • Koliko ti lako ili teško 'pada' pisanje pesama?
Ričard Bakner • Pisanje pesama može da bude lako, a može da bude i neverovatan, beskajan poduhvat. Ponekad, cela pesma se 'ukaže' odjednom i samo je stvar kako ću da je oblikujem ili 'presložim' delove kako bi imala zanimljiviji aranžman. A ponekad, pojavi se samo deo pesme i moram da se potrudim da nađem 'kockice koje nedostaju'. U tim situacijama, procenat neuspeha je veliki i puno tih nezavršenih ideja kasnije ide u đubre za reciklažu.

Postoji li autorska blokada kada imaš 'običan' posao?
Blokada kod mene nastaje kad se previše napregnem da pratim neki jedva postojeći trag, usredsređujući se na sićušne detalje koji mi odvraćaju pažnju od 'velike slike'. Za mene je bolje da se opustim i pratim 'krivudanje' podsvesnog.

Koliko je teško fokusirati se na stvaranje muzike kada imaš dnevni posao?
Kada komponujem (to smatram svojim pravim poslom), volim da ustanem rano, i uz velike količine kafe radim bez prestanka sve do večeri. Kada moram da idem na posao (što smatram nadničenjem da bih platio hranu i stanarinu), ti sati su ukradeni, tako da kad se vratim kući na kraju dana nemam više mentalne snage da se bavim kreacijom i razvijanjem jedne ideje do njenog prirodnog zaključka.

Izlazak tvog aktuelnog albuma pratile su neke tehničke poteškoće.
Već neko vreme koristim odličan 'snimač' - brz je i jednostavan za upotrebu ('Our Blood' sam snimio pomoću 24-kanalne miksete Roland 2480 i mikrofonskog predpojačala Grace). Ali oprema je bila u različitim neadekvatnim okruženjima (pretopli tavani, prehladni podrumi, hotelske sobe, kuće sa životinjama koje se penju po svemu), tako da je bilo pitanje vremena kad će stvari početi da otkazuju. U međuvremenu su se pojavili i problemi koji nisu bili vezani za samu opremu - tokom pljačke stana lopovi su odneli moj laptop sa miksevima pesama, beleškama i drugim važnim stvarima vezanim za pravljenje albuma. Sve to zajedno dovelo je do jednog ne-tehnološkog, kreativnog sloma koji me na trenutak mentalno oslepeo.

Koliko tvoj muzički stil zavisi od (nove) tehnologije?
Nove sprave (možda ne tako nove za svet, ali za mene - svakako) pomažu stilskom izrazu. Pošto su nam nepoznate, one uglavnom vode na nepoznatu teritoriju, dok istražujete kako najadekvatnije da ih upotrebite. Pre nekog vremena snimio sam album 'Impasse'. Tik pre nego što sam počeo sa snimanjem, dobio sam analogni sintisajzer i Exhoplex i ta dva uređaja su odlično radila zajedno oblikujući zvuk i aranžmane pesama i albuma u celini. Za 'Our Blood' jedina nova sprava koju sam koristo bila je Boss Slicer pedala koja daje arpeđo efekat svakom instrumentu koji provučeš kroz nju. Ideja je bila da je koristim kao dopunu tradicionalnijim instrumentima poput tenor gitare sa različitim štimovima i žicama, nasnimavajući jednu preko druge pokušavajući da nađem meni zanimljive akorde i teksture, stvarajući tako slučajne fantomske harmonije i melodije koje inače ne bih mogao racionalno da osmislim.
Šta ti se kao "roots" orijentisanom muzičaru najviše dopada u vezi a novim tehnologijama?
To kako ja volim da radim nije vezano toliko za tehnologiju, već za iznalaženje načina da napišem i snimim muziku na noviji način. Za mene je to krčenje novih puteva za dolazak novih ideja. Na 'Our Blood' ograničio sam se na upotrebu 'normalnih' gitara, što me nateralo da sviram drugačije, a to je samim pesmama dalo drugačiji identitet. Možda se u svari kod mene radi o odbacivanju tehnoloških inovacija i traženju novih ideja uz pomoć starih, postojećih instrumenata, dok samo pokušavam da odgovorim na izazove modernih tehnologija.

Kakav je Njujork danas, naročito Bruklin?
Otišao sam iz Bruklina pre pet godina, preselio sam se na sever države Njujork. Sada putujem u grad tek nekoliko puta godišnje kad imam koncert i neke sastanke. Čak i kad sam živeo u Njujorku, nisam previše izlazio iz kuće.

Šta voliš u Njujorku i šta u drugim mestima gde si boravio?
U Njujorku volim prodavnicu ploča Other Music. Verujem njihovom ukusu. U Ostinu i San Francisku takođe ima dobrih muzičkih radnji koje treba posetiti. Širom zemlje ima nekoliko odličnih prodavnica instrumenata u koje volim da svratim kad sam u prolazu. To su radnje koje drže starije i intrumente koji se teže nalaze, a to je ono što me uvek zanima.
Okruženi smo razbibrižnom, brzopoteznom, gramzivom, 'reality' kulturom. Koliko je teško sačuvati svoje mesto i publiku u tako 'nestrpljivom' kulturnom okruženju?
Slažem se da postoji nestrpljenje u današnjoj kulturi. Bilo bi mi teško to da svarim, da mi je stalo. Ali ja to ne mogu. Ja nemam 'mesto' koje treba da sačuvam. Mogu samo da se nadam da će mi publika i mesto u kome sviram dozvoliti da dam najbolje sto umem. Uvek će biti onih koji nisu zadovoljni, iz ovog ili onog razloga (mnogo lupova, nedovoljno lupova, previše glasno, previše mekano). Uzaludno je pokušavati da ugodiš bilo nonšalantnim kapricima ili uštogljenoj tradiciji.

Ti imaš impresivan status među muzičarima, a ko su oni koji su na tebe najviše uticali?
Kad su u pitanju aranžmani i struktura pesme, volim sve od Glena Branke do Gila Evansa. O tome kako se emocije pretaču u melodiju učim i od grupe Slint i od Peta Metinija. Nisam naročito okrenut kantautorima. Odvojeno doživljavam muziku i tekstove.

Koje javne ličnosti najviše ceniš u današnje vreme?
U političkom smislu cenim Noama Čomskog, Ralfa Nejdera i još nekolicinu. U umetničkom i društvenom smislu - to je promenljivo. U poslednje vreme pratim podkast Marka Merona i njegove intervjue sa raznim frikovima i zabavljačima. On dobro komunicira sa mojim prigušenim životinjskim ponašanjem u kasnim četrdesetim.

Koji je smisao postojanja muzičkog kritičara u eri interneta?
Internet je 'rodio' ceo jedan univerzum samozadovoljnih kukavica sa plitkoumnom odvažnošću, koji u svoj svojoj dokonosti stoje ispred beskrajnog, belog platna i pišaju na njega zato što ne umeju da slikaju.

Koliko obraćaš pažnju na takve kritičare danas?
Tek povremeno i sasvim slučajno nabasam na te takozvane kritičare, kao kad zavučeš ruku u džep tražeći sitniš, a u stvari nađeš smotuljak prljavštine.

Da li muzički mediji danas mogu da stvore ili unište pravog umetnika?
Mediji mogu da stvore i unište onoliko koliko i bilo koja druga klika koja ima moć da oblikuje tuđe mišljenje. Važnije je da shvatimo da su mediji agresivan parazit društva i kulture. Mediji žive da bi jeli i jedu da bi živeli. Na nesreću, mnogi stoje u redu za tim švedskim stolom i nesvesno završavaju na jelovniku.

Koliko su muzičarima danas potrebni mediji?
Masovni mediji su jedan veliki Uroboros, zmija koja jede sopstveni rep, i to ne zbog ponovnog rađanja već zbog pukog žderanja. Tvitovanje može da se posmatra kao nova vrsta interno stvorenog medija kojim ne mora da manipuliše neko spolja.

Kakav je današnji status amerikane/alt-kantrija u odnosu na pre dvadeset godina?
Iskreno, nikad nisam razumeo niti pratio žanrove. Nikad nisam bio neki tip koji voli da se udružuje i pridružuje. Neki opsedniti samim sobom traže javno priznanje dok oni pravi mislioci hrabro pišaju u pantalone i drže to za sebe.

Koja je najbolja lekcija iz života koju si naučio kao muzičar?
Gotovo na svakom ćošku, video sam da je svet uglavnom sačinjen od oportunista koji traže brzo i jednostavno zadovoljenje.

Šta je najteže u životu jednog muzičara?
Kada si umetnik najteže je ubediti sebe u to da ti zapravo nešto radiš, a s druge strane pokušati da se setiš toga kad nema ničega na vidiku.

Šta čitaš ovih dana, možeš li da preporučiš nešto.
Upravo čitam Sabrane priče Lidije Dejvis. Prijetelj mi je to preporučio znajući da pratim izdanja kuće Meksvini i sličnih njoj. Želeo sam da probam nešto novo, ne bi li me to inspirisalo da i sam više pišem. Poslednji 'klasik' koji sam pročitao bio je roman 'Native Son' Ričarda Rajta.

A od muzike?
Prošle godine otkrio sam jedan biser - 'The Om Album' Teda Lukasa iz 1975. To je njegova jedina solo ploča. Na nekim koncerima na ovoj turneji sviram pesmu sa tog albuma 'Now That I Know'. Uklapa se negde između Nika Drejka i Sendi Bul. Čarobna ploča.

Često si menjao prebivalište, možeš li da zamisliš da živiš u Evropi?
Mogu da zamislim da živim van Sjedinjenih država. Prošle godine sam svirao u jednoj umetničkoj koloniji u Holandiji i pomislio sam da bih mogao da se uklopim u tu okolinu i stil života.

Kako životno okruženje utiče na pisanje?
Životno okruženje najmanje utiče na ton pisanja, a najviše može da utiče tako što prenosi lokalne, društvene norme. Što se mene tiče, sve je u traženju svog unutrašnjeg glasa koji odslikava ono što ostaje izvan manipulacije melodija, kao i u igri rečima i slikama, kao u ukrštenici.

Prvi put ćeš nastupati u Srbiji, kakav je osećaj kad dođeš u novu sredinu?
Nikad nisam bio u vašem delu sveta. To je onaj uzbudljivi deo kada si na turneji.

Znaš li nešo o Srbiji, Balkanu, građanskom ratu?
Ono što znam o Srbiji saznao sam iz medija, ali to se ni približno ne može nazvati poznavanjem. Radujem se što ću osetiti stvari iz vaše perspektive.
Apr 26
PD GIG :: PEASANT & FORMER BELLE + KOLE :: SREDA 2. MAJ 22H :: GUN CLUB
Peasant je klinac iz Pensilvanije od 25 godina - gitare, melodija, malo eliota smita, zrnce krisa bela, trag bon ivera, sve ostalo skroz njegovo :)




U septembru 2010. godine PEASANT (Damien DeRose) nastupio je solo u beogradskom KC Grad u okviru festivala "Jesen folkera u Gradu". Svojim glasom i akustičnom gitarom više puta "naterao" je publiku da peva zajedno s njim, usput izmamio prave ovacije i najavio veliku karijeru koja "samo što se nije ostvarila". Svoj debitantski album samostalno je snimio i objavio 2005. godine, dok je još išao u srednju školu.

Peasant je vanserijski pripovedač, a poput nekog trubadura svetom hoda s gitarom u jednoj, a torbom prepunoj pesama u drugoj ruci. Trećim studijskim albumom "Shady Retreat" - koji je tada promovisao u Beogradu - dobio je značajnu medijsku pažnju i "naterao" mnoge da ga proglase "novim Bon Iverom". Nekako logičan razvojni put za nekog koga su na početku karijere poredili sa besmrtnim Elliottom Smithom.

Početkom maja 2012. godine Peasant u Srbiju dolazi sa četvoročlanim bendom - gitare, bas, bubanj - da promoviše novi album "Bound For Glory" (april 2012, Schnitzel Records). Poslednjih meseci njegove pesme - nove i stare - mogu da se čuju u hit serijama kao što su "Good Wife", "Weeds" (trailer za poslednju sezonu)…

PEASANT nastupa u Gun Clubu u sredu 2. maja u 22h. Podrška na koncertu biće mu takođe singer-songwriter iz Filadelfije i lider benda FORMER BELLE, Bruno Joseph, a na koncertu će kao specijalni gost nastupiti i Vladimir Kolarić, lider Velikog Prezira.
Ulaznice po pretprodajnoj ceni od 600din mogu da se kupe u muzičkoj prodavnici Pinball Wizard (TC EUROCENTAR, Makedonska 30, lok. 15) i kafeu Šikarica (Skadarska 22). Na ulazu karte će koštati 800din. Ulaz u Gun Club otvara se u 22h, a planirano je da koncert počne u 22:30h
Mar 26
Velikim skitanjima došao je kraj... -
Koncertna sezona PROLEĆE 2012 za POP Depresiju počela je dabl-bilom u petak 23. marta u Gun Clubu. Sve je prošlo u granicama (mojih) očekivanja - Richmond Fontaine i Rebel Star bili su fantastični, publike je bilo nešto manje nego što je bilo potrebno da se pokriju troškovi, ali je zato 40-ak "izabranih" koji su ostali do kraja užarenog i strasnog nastupa Rebel Star moglo da prisustvuje totalnom spektaklu koji se dešavao u ranim jutarnjim časovima…
Uz 15 minuta kašnjenja u odnosu na obećanih 22:30 veče su otvorili Willy i Dan i oduševili me na svaki način. Opušteno, vešto, nadahnuto i direktno prošetao je ovaj tandem kroz skoro dvodecenijsku karijeru grupe Richmond Fontaine i pokazao da se i u običnim pričama iz života krije inspiracija za pop hitove. 

Willy mi je rekao da je završio četvrti roman koji mu je upravo vratio prezadovoljni agent na korekcije - Willy sam smatra da je knjiga drugačija od svih prethodnih i da se nada da će je čitaoci prihvatiti i takvu, "drugačiju". Planira da prvi put posle x godina ode na godišnji odmor sa devojkom (i to u Nju Orlians) i da je to totalni šok za njega pošto uglavnom nikad nije kod kuće da bi i teoretski razmatrao odlazak na odmor… 
Od muzike RF članovi benda uglavnom ne mogu da žive, tako da i dalje većina njih ima "day job". Willy ima privilegiju da zahvaljujući svojim knjigama i novcu koji je dobio od prodaje prava na ekranizaciju istih, može da komotnije pristupi planiranju života na neke kratke staze. On i devojka žive na ranču sa konjima, mačkama, psima i ostalim domaćim životinjama. Kaže da zna da jaše, ali da je devojka mnogo bolja od njega. Svo troje (Svetlana, on i ja) razmenjali smo slike svojih kućnih ljubimaca - Ripli je očekivano 
bila prva zvezda :) 

I Dan i Willy jako su bili uzbuđeni što su imali priliku da sviraju i dođu ovako daleko na istok Evrope i oduševljeni su reakcijom publike. Intervju sa Willyjem Vlautinom očekujte uskoro na PD sajtu.
Rebel Star duo uživo je verovatno najbolji domaći bend koji sam gledao u poslednjih deset godina. Do poslednje kapi znoja, tehnički besprekorni, u totalnom transu svirali su Milan i Atila stare hitove i nove generacijske himne i totalno razgalili euforičnu publiku (predvođenu Magdalenom i Sašom V.) koja je većinu pesama pevala zajedno sa Milanom. Tako bih voleo da se odužim RS na dolasku i ovakvom spektaklu koji su napravili u ograničenim tehničkim mogućnostima "Gana" i nadam se da ćemo zajedno da smislimo nešto pametno.
Hvala svima koji su bili i kupili kartu, sledeći koncert je u sredu 2. maja - stiže Peasant (The Band) uz podršku FormerBelle i možda još jedno iznenađenje, i za kraj - 23. maja Richard Buckner i beogradski On Tour. 
Feb 08
POPDepresija :: Nagradna igra :: 2012 ::
Povodom 10 godina rada i 500 emisija POP Depresija organizuje nagradnu igru. Propozicije su kratke i (nadam se) jasne:

- izaberite jednu pesmu - koja iz bilo kog razloga ima poseban značaj za vas - nastalu u periodu od 2001. do 2011. godine (prvih deset PD godina),
- pokušajte da vaš doživljaj te pesme prenesete na papir/fotografiju/instalaciju/ekran/audio/video… Znači od vas se očekuje da nešto napišete/nacrtate/sastavite/kompujete/snimite… - uslov je da to što uradite bude vaše - pozajmice se neće tolerisati,
- pošaljite vaš rad na PD mejl: popdepresija AT gmail DOT com - rok je produžen do 29. februara.

Očekuju vas vredne nagrade koje su obezbedili PD prijatelji i Pinball Wizard Records:

LP :: UNKNOWN MORTAL ORCHESTRA - ST (Fat Possum)
LP :: THE STEPKIDS - The Stepkids LIVE Direct To Disc (Stones Throw)
LP :: TINA WITH IKE TURNER & THE IKETTES - PLEASE, PLEASE, PLEASE! (Ace/Kent)
LP :: 24-CARAT BLACK - Gone: The Promises Of Yesterday (Numero Group)
GIG POSTER :: TEENAGE FANCLUB koncert u Beogradu sa potpisima članova benda.

Krajem 2008. i početom 2009. godine rezultati slične nagradne igre bili su ovakvi… Svi ste pozvani da učestvujete!
Dec 01
Joe Henry: Tiny Desk Concert -
Set List:
"Sticks And Stones", "After The War", "Odetta", "Piano Furnace"
Nov 22
Musical World Tour: The Best Songs About New York City -
by Tom Hawking

Not so long ago, we were listening to M83′s glorious Dead Cities, Red Seas and Lost Ghosts album. The album's not heavy on lyrics, but its widescreen soundscapes definitely reflect its evocative, dramatic title, and it got us thinking about the manifold different ways the world's great cities have been immortalized in song — and about how different cities have inspired very different musical tributes. In view of this, we figured that it'd be an interesting idea to do a semi-regular series wherein we choose our five favorite songs about a particular city. The first stop on our whistlestop world tour? Why, right here at Flavorpill central in New York City. Hop on board after the jump.
LCD Soundsystem — "New York, I Love You But You're Bringing Me Down"
We're especially partial to this song because it captures the New York of today, not the much-mythologized city of any number of past eras. James Murphy's lyric deals with the creeping Disneyfication of New York — "New York, you're safer and you're wasting my time/ Our records all show you are filthy but fine" — and the collateral cultural damage of Rudy Giuliani's much-trumpeted clean-up of Manhattan. The reality of the island in 2011 is that while you're a lot less likely to get shot there, it doesn't really matter, because unless you're making money hand over fist, you're not likely to be living there in the first place.


Nas — "NY State of Mind"
Nas's vision of New York, by contrast, dates from an earlier, bleaker era — but it still applies to the dark pockets of the city that nestle mutely up against the bright lights of the Sarah Jessica Parker-ified districts of Manhattan. Filching the title from Billy Joel's sentimental postcard to the city, Nas sets out what New York means to him: a perilous urban landscape where "every block is like a maze," a city where cash is king and your guard can't be dropped for a moment — "I never sleep," he raps in the song's sole, crucial repeated line, "'cause sleep is the cousin of death."


Lou Reed — "Dirty Blvd"
Reed's written reams of lyrics about New York, and for all that he clearly loves his home city, and that its environment has been a constant influence on his music over the years, he's never been one to be overly sentimental about it. (Or, indeed, about anything else, really.) "Dirty Blvd" captures the city at the tail end of the Koch era, and pulls absolutely no lyrical punches, depicting a metropolis with an ever-widening gap between rich and poor, where the positions of the privileged few are maintained by the labor of exploited immigrants, all under the gaze of the "Statue of Bigotry."


Leonard Cohen — "Famous Blue Raincoat"
It's not all grim realism here, though. Pretty much everyone who moves to New York does so with some measure of starry-eyed idealism, something that even epoch-defining poetic geniuses aren't immune to. "Famous Blue Raincoat" isn't about New York per se — its lyric takes the form of a letter to a friend-turned-love rival — but its setting permeates every line, so much so that you can almost see Cohen in a sparsely-furnished room on Clinton Street, punching away at his typewriter as music plays in the dark street below.


Liza Minelli — "Theme from New York, New York"
And yes, if you can make it (t)here, you'll make it anywhere, etc etc etc.
Gillian Welch: 'A lot of the songs are done in one take. Maybe two' -
Celebrated acoustic duo Gillian Welch and David Rawlings talk to Phil Hogan about authenticity, Nashville, and why there's nothing 'old' about their music
by Phil Hogan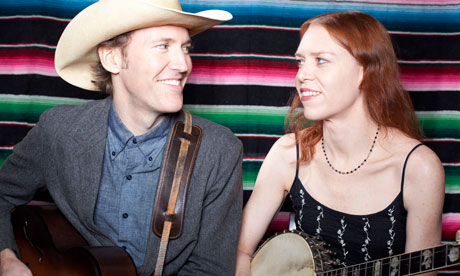 Awesome twosome: David Rawlings and Gillian Welch in London last week. Photographed for the Observer by Katherine Rose

If you only know two things about the American singer-songwriter Gillian Welch – and not everyone does – it will be that her name is pronounced with a hard G (as in gigabyte rather than giraffe) and that she is one half of the duo also called Gillian Welch, along with her musical partner, David Rawlings.
It's not what you'd call equal billing, but Rawlings has had almost 20 years to get used to it. It's a vestige of their early days doing the club circuit in Nashville, which in the early 90s favoured solo female artists. "We were funnelled towards that," says Rawlings. Welch goes further and says the prevailing advice was to "get him out of the picture". Hadn't they heard him play guitar? To be fair, Rawlings says, they both still had a lot of developing to do.
We're in a poky conference room at a London hotel. The duo are in the middle of a European tour to promote their superb, long-awaited fifth album. They make a lean and angular pair (a western storyteller would describe them as raw-boned) and both wear cowboy boots. Welch, pale as a stone, has holes in the elbows of her black cardigan, which she sometimes draws tightly round herself, as if she's feeling a chill. There's an occasional yawn. Rawlings – firm-jawed, intelligent and open-faced – answers my questions from under a straw Stetson.
To fathom their music is to sift through their every influence, starting with brother-team acts from the 30s through to Johnny Marr in the 80s; Bob Dylan, Neil Young, Richard Thompson alongside Willie Nelson, Lefty Frizzell and Bill Monroe. Welch started writing songs in the folk-country idiom when she was seven. By her late teens, she says, "I was on a constant quest to make the song I write sound more classic. I always want them to be as good as 'Blue Eyes Crying in the Rain'."
She was an untypical California girl in more ways than one. Welch was an adopted child, born in New York and brought up in Los Angeles. Her adoptive parents – successful TV entertainers and musicians – told her that her biological father had been a musician visiting New York; her birth mother was a first-year college student. The abiding mystery of her parentage is touched upon in several of her songs: "No One Knows My Name"; "I Had a Real Good Mother and Father". Welch says that "Orphan Girl", one of her best-known songs, is also her most autobiographical. And, you could say, a classic.
She met Rawlings (he's from Rhode Island) at Berklee College of Music in Boston. It wasn't a hotbed of country music, according to Rawlings ("There were a lot of kids whose parents had sent them off to learn heavy metal"), but he says there were "enough of us to form a circle". But while he and Welch were happy to sit jamming with kindred spirits, "there was something we recognised when we just played together that interested us more".
That something was what pushed them to try their luck in Nashville, where they eventually attracted the attention of producer T-Bone Burnett (now best known for the Grammy-winning O Brother, Where Art Thou? soundtrack – on which Welch and Rawlings also collaborated). There was also what Welch calls "a completely romantic attachment to the music that came out of Nashville – though we were 30 years too late," she adds, meaning that the greats had been and gone. But the duo have followed in their heroes' footsteps in so far as they are celebrated in their adoptive town, not only on the stage of the Grand Ole Opry but also for their work with stalwarts such as Emmylou Harris, Alison Krauss, Steve Earle and indie-folkies including the Decemberists and Conor Oberst.
Their 1996 debut album Revival was nominated for a Grammy, as was their third, the magnificent Time (The Revelator), released in 2001. "Best contemporary folk" was the category, though their stripped-down style – two voices and two guitars – is harder to pin down than that, with its hues of bluegrass and gospel, country and blues, its laments from the dustbowl, its breezier Appalachian workouts.
In a 10-page profile of the duo in 2004, the New Yorker described their music as "at once innovative and obliquely reminiscent of past rural forms". Commentators are apt to read the mood as mournful (and as Rawlings observes, "Gill always likes the saddest song on a record"), though Welch more accurately identifies it as stoical, and for argument's sake draws their style under the simple umbrella of "acoustic".
Whatever it is, it transcends the sum of its influences and attracts admirers who own no country albums (I'm one of them), and are drawn as much by its unnerving modern dissonances as its timeless meditations on moral ruin or crop failure (and even here you're likely to encounter a lyric such as: "Becky Johnson bought the farm/ Put a needle in her arm"). The nearest historical model for their sound is the prewar brother teams – duettists such as the Blue Sky Boys and the Monroe Brothers, who rode the American country airwaves between the wars. But while Welch and Rawlings have set up house in what they see as a largely abandoned musical form, they reject any idea that they are therefore playing "old" music.
"Setting means a lot in terms of perception," says Rawlings. "If you play something on a banjo, it seems old time. I used to stand on stage in a brand-new Dries Van Noten suit and I would see written next day: 'Standing on stage in his grandfather's sharecropper's suit…'"
In the duo's early career they came in for flak from some critics for a perceived lack of authenticity – the idea that only a coalminer's daughter should be singing a song called "Miner's Refrain".
Welch sighs. "It's such an unartistic way of looking at it," she says.
Rawlings throws up his hands. "I come from Rhode Island," he says. "Should I have been a lobster fisherman? It's an argument that it is a ghost. You can't hit it because it has no weight. And it's related to something else we don't like – the way some people need backstory to enjoy art."
Naturally, I pick this moment to ask if the pair are more than musical partners. There's a pause. "That's not part of the act," they say, almost in unison (which almost answers the question). They are happier to talk about the work.
They write wholly together, words and music alike. Rawlings says: "Gill is a better songwriter than I am, but together we are better songwriters than either of us." (Later, he trumps this by saying that Welch is the better guitarist – "way better" – but that she rarely gets the chance to show her technique.)
The songs are highly arranged – interwoven guitars and an ear-defying melding of vocals. Sometimes, I say (and I speak as someone who sings in the bath), their harmonies are so close you can't see any light between them.
"Dave has notes he wants to hear," explains Welch, and she tells a story illustrating how he'll try one, then another, until he arrives at the least conventional. "He'll pick the one that's maybe a major second – not a very common interval in harmony singing."
His guitar work is full of it too, a waywardness that makes that noodling behind the vocals and flurries of chiming notes unguessably inventive. I have assumed he works a guitar part to death before committing it to tape, but no, it's all improvised. He talks animatedly about a song's picture and the challenge of working within its parameters. Put simply, "there's a lot of things going on to keep it from sounding like guitars banging away".
I think of their hypnotic, thrilling stage performances, at times all chemistry and telepathy, at others each in their own trance, Rawlings on his toes swaying, eyes closed as he wrings and shakes notes out of his ancient guitar (a battered 1935 Epiphone Olympic), Welch stooped over hers, one boot scraping the floor in time – or squinting out as she sings, as if facing a strong wind.
"It's a very mentally focused show," she says, and I'm amazed when she tells me that this is pretty much the way they record – just the two of them singing and playing live in front of microphones. "A lot of the songs are done in one take," she says. "Maybe two."
And yet, I say, the new album – The Harrow & the Harvest – is their first in eight years. What was that about?
The short answer is that it had a difficult gestation. The clue is in the title, says Welch. They spent too long touring the last album (Soul Journey) and not enough time writing. Then they had a writing crisis. "We were writing and writing but we didn't like what we were getting. So we didn't put it out."
Rawlings adds: "We were aware of the pressure but we couldn't just pull the trigger and say OK, here's some music we don't feel strongly about. We were constantly having to recalibrate by going back, finding some unfinished piece of song and thinking, would we accept this now? Has our bar become too high? Are we crazy?"
"Or," says Welch, "will we ever like anything we do again?"
It was a miserable time, but things worked out. And now they're back touring, which they love. They've just been to Paris and Norway and Brighton. Charmingly, they still drive themselves from gig to gig. They have their instruments with them right now.
Rawlings gives me a quick and awesome masterclass on his guitar, which he says he found in his friend's basement in 1995. The first time he used it, Welch says, was on "Annabelle", the first song recorded for their first album. He's used it ever since. It's really a student guitar, he tells me, his narrow fingers spidering up the fretboard, the notes ringing out in the small room. "I got lucky."
Welch puts her coat on and watches him and waits.
Oct 04
Pam Grier on Jackie Brown, Quentin Tarantino, and Her Reign as the Queen of '70s Action Cinema -
Grindhouse icon Pam Grier blazed a trail through the blaxploitation era, was dubbed "the baddest One-Chick Hit-Squad that ever hit town" (a title that remains uncontested four decades later, one might argue), and commanded the screen with a combination of ferocity, empathy, and a look so striking Roger Ebert once described her as an "actress of beautiful face and astonishing form." Years later, in 1997, Quentin Tarantino paid homage to the work and the woman in Jackie Brown, adapted from Elmore Leonard's Rum Punch, one of the filmmaker's best and most underrated films and the spark that jump-started a career revival for its stars.
Grier earned a Golden Globes nomination for her turn as Jackie Brown, a flight attendant who turns the tables on a local gun-runner (Samuel L. Jackson) and the feds with the help of a sympathetic bail bondsman (Robert Forster, who was Oscar-nominated for the role). In honor of the film's Blu-ray debut this week, Movieline spoke with Grier about the legacy of Jackie Brown, Tarantino's appreciation of a certain kind of woman, her legendary career as the queen of exploitation cinema, and her upcoming turn in rapper-turned-director RZA's martial arts film The Man with the Iron Fists.
How do you feel about Jackie Brown and its impact on your own career when you look back on it now?
Pam Grier: Well, the fact that the film had legs because of the wonderful talent of Quentin Tarantino and his ensemble and the film that he invested two years of his life to write for me — and for me, I wrote a journal of how wonderful it was to work on the film. My experience was very emotional; I wouldn't reveal it to other people. It's very sentimental, on and off camera. Moments, Quentin's direction, and how he worked with me and other actors, his belief in me… but I really believe that if I hadn't done theater and that process of rehearsal, because when you're on stage people are eating sandwiches, sneezing, there are noises and you can't lose that focus. So that prepared me to work at his level of intensity. Jackie Brown meant a lot. I would always say, 'If I never work again, I have been to the mountaintop.' This was an extraordinary experience with someone who loves films.
A lot of conservative men were upset that I had taken their roles, or they were objecting to me being so progressive and thought I should be in the kitchen barefoot and pregnant.
And he loves your films in particular, as well. Do you remember the first time you met Quentin?
Grier: Yes, it was frightening! I thought he was a stalker. It was for Pulp Fiction, I'm going in and all my posters are on his wall. I said, 'Did you put this up for me?' He said, 'No, but I would have.' I realized he was a real, true filmmaker. And the nuances of the films that we made, not only with Roger Corman but with AIP [American International Pictures] in the '70s, the women's movement and sexual revolution, political liberation movement, he knew what they meant and what they meant to me. He embraced it, and it wasn't something where he felt challenged, or intimidated. A lot of conservative men were upset that I had taken their roles, or they were objecting to me being so progressive and thought I should be in the kitchen barefoot and pregnant. That was a conservative movement toward the films, where the 'blaxploitation' term was made up to divide and 'let's dismantle this women's [movement].' But they forgot that pioneer women such as my mother and my aunt, who were in Wyoming huntin' and shootin' and fishin' and riding horses and doing things to survive, but not emasculating men or taking away their jobs. Just being the best women that they could be. That frightened a lot of men. But Quentin's generation, the younger generation, were saying 'Yeah, that's what our single moms have to do! They have to do that.' So there was a different mindset. I could see that he was open — a-ga-pe — to not only my work, but other work of women. He really likes what women do, and you can really see that in his films after Jackie Brown but he really embraced that character.
Quentin is known for his fondness for grindhouse cinema, including the films you become known for which were termed "exploitation" movies. How do you view that label?
Grier: Well, what is it? Look at martial arts. I saw martial arts films with my ex, Kareem Abdul-Jabbar, he was studying with Bruce Lee and we used to go see martial arts films. And later, The Bride with White Hair and Seven Samurai. Those are exploitation films — the first two seconds, decapitations, stabbing, children being burnt! But that's action film. Is it exploitation or action? So it evolved into action, because a lot of films are very exploitative today.
When you look at how the female action star has evolved from your time to now, it seems that the sexualized component that largely made it exploitative is no longer on the table anymore. Why do you think that is? Just a product of the time in which these films were made?
Grier: I don't know, you'll have to ask men and ask other women. But I think it's been played out because I established it in the '70s. Forty years later now women are just coming into a story and it's not about sex, it's about survival and being stealth and powerful. Then, we could play at sexuality just to show them we could play at this, it's really silly and it's not that important. But we had to play that out then. A lot of films then would not work today, because it's already been established — the sexual mores, how people have relationships and open marriages, it's so different today. It's just a different social and cultural difference, sexual difference. It's completely different today. People couldn't even say certain words. You would never hear the word 'vagina' then, even though it's exploitation, it's hard core, it's this and that. Today, you're gonna hear everything. So it's different, but I'm glad I was a part of that. It was tongue in cheek, we were making fun of men making fun of us and saying, back atcha!
"Fearless" and "confident" are adjectives that have been applied to you and your film roles over the years, qualities that really shine through onscreen. What would you attribute that to?
Grier: It comes from my personal life. It comes from me experiencing very tragic circumstances when I was six and again at 19, and again at 21, where I finally felt I had to survive, I had to live through these circumstances. That gave me confidence. I fight a little harder, I challenge people… there are things that happened to me personally that I bring to the screen. But also, I wanted to show other women that they, too, won't lose their femininity or castrate their men by being assertive. It's okay to be confident… if you're right. But it's subjective, like art. Because of what's happened to me personally in my life, I bring that to the screen. Handling guns, if you will, the action, there's not really any hesitation. Just make sure I'm not on fire at the end of the stunt! But there weren't stunt women for me, or at least black stunt women. Only when I did Coffy was that invented. I was a scuba diver, I water skied, and in Sheba, Baby when they had the jet ski, the personal watercraft, Kawasaki wanted to show that — the first time it was in a movie — with me in Sheba, Baby. I got on that thing and I didn't even get wet. I came back dry. They said, 'Oh, this is going to be fun.' But they had the confidence, this major brand, to show this in my film. So I felt I was doing something right, for other women. You know, you don't have to be pregnant to have fun, just get out of the house!
Speaking of fun, part of your legend has it that you once punched a journalist in the junk during an interview. True or false?
Grier: Well actually, he wrote that but he exaggerated. I did not. Because if I had really punched him, he wouldn't be walking. He wouldn't be able to finish the article. So he basically made it seem like I was kind of tough, but I didn't really. I wanted a correction but he says, 'No, I want you to look strong!' I said, 'I can do that without this.' But I really didn't punch him in the family jewels. I think he would have sued me if I had! There's one thing I learned in martial arts, we would never joke around with our form, with our art. We're always very respectful. So I would never hurt someone or punch someone outside of a dojo.
I'm curious to hear about your very first screen credit, which was in Beyond the Valley of the Dolls.
Grier: It's Beyond the Valley of the Dolls! I went to the set to visit a friend; I was a starving student working six jobs, and I just kind of went with him and the next thing I know they say, 'Hey, we need more extras!' They said, 'We'll put you in a dress, and you'll say something.' That was my first credit. It was Russ Meyer and Beyond the Valley of the Dolls, and I wasn't even union. I was like, 'Well, okay.' I had no intention of being an actor.

Really? What convinced you to become one?
Grier: I still haven't been convinced. [Pauses] Just kidding! At the time I wanted to be a camera person. I didn't feel like I was attractive enough, with the glamour you see on television and the images that were portrayed. And I was a revolutionary, I was into the Black Panthers, being independent, feeding your own, give them a pole they'll learn how to feed themselves, and all of that. The womanly stuff was foreign to me. I came to Hollywood in a flannel shirt, Timberland boots, and Levis, with a big 'fro in my family's hunting jeep with no roof, no doors, no windows. They'd see me hiking up Sunset Plaza Boulevard, it's a long winding road, because I was used to hiking in Colorado. They said, 'No one in Los Angeles hikes! What are you, nuts?' No, it's just what I do. So I brought all of those differences, a different type of woman. They could dress me up, I clean up well. But that was my first credit. And I didn't know what I was saying. I didn't know anything of what to do.
Are you glad you did it?
Grier: Um… It was tuition money! Anything for school. I was saving every dime.

What was your recent work with RZA like?
Grier: Yes! The Man with the Iron Fists, I play his mother. We shot it in Shanghai. He's going to be an extraordinary director as well. He's excellent. And of course I loved Wu-Tang Clan, I loved his art form there, but this is a film where I play his film in the mid-1800s. It was a great experience.
Broken Social Scene Plan Indefinite Hiatus -

Danielle St. Laurent
After 12 years, four albums, and a revolving door of close to 20 musicians, Canadian indie rock collective Broken Social Scene might be calling it quits for good. The alternative supergroup has decided to go on "indefinite hiatus," according to our colleagues at the Huffington Post.

Speaking to Huffington Post backstage at the Hardly Strictly Bluegrass Festival, lead singer Kevin Drew explained, "There's no bad blood, no problems, everyone is at peace. We've had a lot of inter-relationships, some have worked, some haven't. But we all loved what we were doing. And I think we were always fair." The festival was to be one of the band's last North American shows before embarking on indefinite hiatus, that purgatorial term which has doomed many a rock group.

As one might imagine, trying to schedule band practice with close to 20 musicians is not an easy task. "It's like wrangling cats," Drew says. Not dogs. "Dogs would actually listen."

Due to the fungible nature of the project, and their several attempts to disband, a full and complete ending to BSS seems hard to believe. Their most recent album, 'Forgiveness Rock Record' was completed after an "extended hiatus" during which many of the group's multiple members embarked upon projects like Stars, Metric, Do Make Say Think, Land of Talk and many others. Drew and Brendan Canning, another founding member, have both released solo albums of their own. Most visible of these acts might be Leslie Feist, whose breakout single "1234" launched her to international fame, and sold a whole bunch of iPods.

"I don't want to dilute what we've done," Drew said. "But I'd like to find other ways of telling the story of our band." Here's to hoping he does just that, or just makes another Broken Social Scene album.